Biography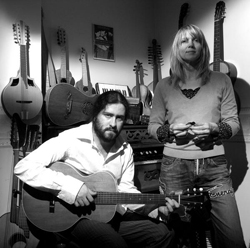 The Hollywood story of Anna Kashfi is one of tragedy, identity and the demon drink. She married Marlon Brando in 1957 and was considered at the time an exotic Indian beauty. Her story unravelled though as it became clear she was actually the daughter of a steel worker from London who had grown up in the Cardiff docks. Brando was furious and divorced her immediately, resulting in a fierce custody battle for their child (who was later accused of murdering the boyfriend of Brando's daughter) and leaving Kashfi adrift, struggling with alcohol and living in a trailer park.

Anna Kashfi is also the name of a band from Manchester based around the core duo of singer Sian Webley and multi-instrumentalist and producer James Youngjohns. Together they play dreamy, melancholic music that crackles with the memories of past mistakes, missed opportunities and the emotional games played by lovers in battle. Their new album 'Survival' (out January 18th 2010) reflects the duality and tragedy of the real-life Anna Kashfi. It's about that sense of characters being vulnerable to the whims of the world and circumstance, of the thin-line between existing and being wiped-out forever. Many of Webley's words unpick the conflicts between lovers and the emotional battles played out in relationships and she builds on those games with 'Devil's Bridge'. A duet, of sorts, with Robert Fisher of kindred spirits Willard Grant Conspiracy, the song relates the story of how the townsfolk of a Tuscan town tricked the devil into building their bridge for free. Fisher plays the devil of course, superbly so.

Anna Kashfi have received airplay from Radcliffe and Maconie (Radio 2), Gideon Coe (6Music), Elbow's Guy Garvey (XFM), John Peel and have played sessions for Marc Riley (6Music) and ALL FM. The band have played with Laura Veirs, Jesse Sykes and the Sweet Hereafter, Giant Sand, Josh T Pearson and Eileen Rose amongst many others. Members of the band have also lent their skills to Willard Grant Conspiracy, Last Harbour, Mark Mulcahy, Eileen Rose and Quiet Loner.